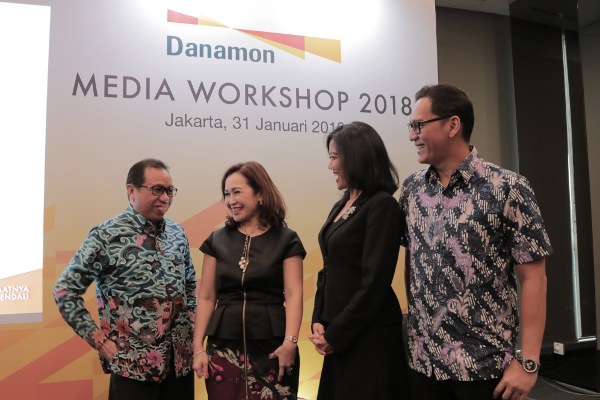 PT Bank Danamon Indonesia Tbk. (Bank Danamon) menggelar media workshop dengan tema "Transformation and Keeping the Momentum." Kegiatan ini sebagai bentuk apresiasi terhadap media yang dinilai memiliki peran penting dalam membantu perkembangan bisnis Danamon.
Acara tahunan yang digelar di Menara Bank Danamon ini memberikan informasi mengenai pandangan, peluang dan tantangan yang akan hadir di tahun 2018 (31/1). Menurut Direktur Consumer, SME & Branch Network Bank Danamon, Michellina Triwardhany, mengatakan, melalui media informasi produk dan layanan keuangan tersampaikan dan dapat dimanfaatkan oleh masyarakat. "Kami harap kegiatan ini menambah wawasan dan pengetahuan rekan-rekan media, sekaligus memperkuat hubungan antara rekan-rekan media dan Bank Danamon," tambahnya.
Dalam workshop, Anton Hendranata, Chief Economist Bank Danamon, menyampaikan proyeksi perekonomian dunia dan Indonesia untuk tahun 2018 serta faktor-faktor yang berdampak terhadap laju pertumbuhan ekonomi. Faktor-faktor positif yang dapat memengaruhi perekonomian Indonesia di antaranya pemulihan ekonomi Amerika Serikat dengan kebijakan moneter ketat secara gradual dan kenaikan inflasi yang terkendali. Selain itu, pemilihan kepala daerah atau Pilkada 2018 dan pelaksanaan Asian Games 2018 di Jakarta dan Palembang juga akan berdampak pada iklim ekonomi tahun ini.
Di tahun 2018, faktor ekonomi berpotensi menyebabkan kenaikan suku bunga dan tingkat persaingan yang ketat di berbagai sektor. "Pelayanan terbaik untuk nasabah, kerja sama yang kuat dengan berbagai pihak, serta efisiensi dan produktivitas di dalam Bank Danamon akan menjadi kunci sukses untuk menjadi bank pilihan bagi masyarakat Indonesia," ungkap Michellina.
Editor : Eva Martha Rahayu
www.swa.co.id