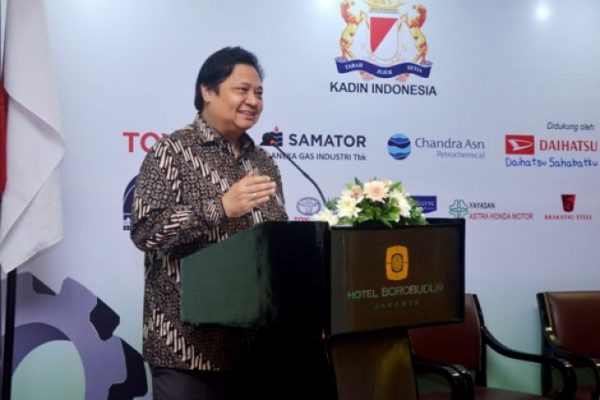 Menteri Perindustrian RI Airlangga Hartarto
Saat ini strategi pembangunan industri yang berkelanjutan difokuskan pada peningkatan nilai tambah melalui inovasi dan pengembangan teknologi industri, pengembangan pola produksi yang dapat mengurangi pemborosan sumber daya, serta mengintegrasikan industri nasional dalam Global Value Chain (GVC) untuk menjamin ketersediaan sumber daya industri dan pasar bagi industri nasional.
"Kementerian Perindustrian telah melihat bahwa industri dunia dapat dikategorikan menjadi lima, yaitu Global Innovation, Resource Insentive, Regional Processing, Global Technologies dan Labor Intensive," ujar Menteri Perindustrian, Airlangga Hartarto di Jakarta (28/11/2017). Indonesia sendiri memiliki porsi dalam setiap kategori tersebut, namun secara khusus Kemenperin mendorong di sektor yang menyerap banyak tenaga kerja melalui program industri padat karya berorientasi ekspor.
Airlangga menyampaikan, pengembangan pola produksi yang dapat mengurangi pemborosan sumber daya ditempuh dengan pengembangan kompetensi sumber daya manusia (SDM) industri. Selain itu, penerapan standar industri yang mencakup standar produk, standar teknologi, standar manajemen, standar tenaga kerja, dan standar sistem industri, serta mendorong efisensi penggunaan energi dan pemanfaatan energi baru terbarukan.
"Untuk itu, daya saing Indonesia membutuh fondasi yang kokoh pada sisi SDM-nya, di mana Presiden Jokowi telah meminta kepada kami untuk meningkatkan kualitas SDM industri," tambah Airlangga. Oleh karena itu, Kemenperin telah mendorong melalui dua program, yaitu link and match SMK dan industri serta pelatihan 3 in 1.
"Model ini kami adopsi dari sistem Jerman dan Swiss. Untuk Program link and match ini telah kami laksanakan secara bertahap di beberapa provinsi. Kami mulai di Jawa Timur, kemudian Jawa Tengah, lalu Jawa Barat dan di Sumatera bagian utara. Sehingga kami menargetkan bahwa pada tahun 2019 akan ada satu juta tenaga kerja industri yang tersertifikasi dari lulusan SMK," Airlangga menerangkan.
Menperin menambahkan, integrasi industri nasional dalam Global Value Chain (GVC), antara lain, ditempuh melalui kerja sama internasional di bidang industri dengan negara-negara pasar utama produk industri. Kemudian, penyesuaian standar kualitas produk dan kompetensi jasa dengan standar negara tujuan, serta promosi produk industri di negara-negara yang berpotensi bagi pemasaran produk industri nasional.
www.Swa.co.id