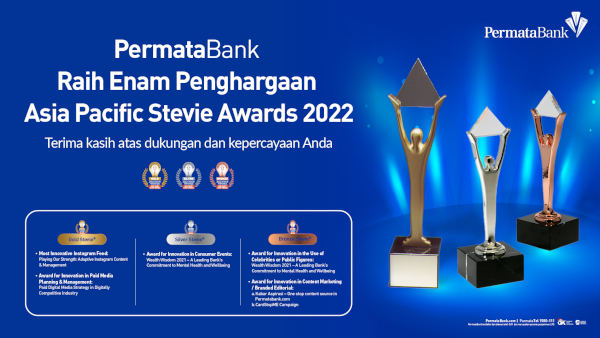 PermataBank sukses meraih enam penghargaan bergengsi di kategori campaign dan digital communication dalam ajang ajang penghargaan internasional Asia-Pacific Stevie Awards 2022, yang merupakan penghargaan bisnis utama berkelas dunia, yang memberikan penghargaan atas prestasi di tempat kerja dalam berbagai program seperti The International Business Awards® selama dua puluh tahun.
Pemenang Gold, Silver dan Bronze Stevie Award ditentukan dari nilai rata-rata penilaian dari lebih 100 eksekutif di seluruh dunia yang berperan sebagai panel juri pada bulan Maret dan April.
Glenn Ranti, Head of Marketing Communications PermataBank, menyatakan merasa terhormat atas penghargaan yang diberikan Asia-Pacific Stevie® Awards di tahun ini. Hal ini semakin menunjukkan komitmen dan kapabilitas PermataBank dalam memberikan customer experience and engagement yang menyeluruh di ranah perbankan digital bagi nasabah dan masyarakat luas.
"Penghargaan yang diraih PermataBank di kategori campaign untuk Wealth Wisdom dan #CANTSTOPME serta kategori digital communication untuk social media, website content, dan paid media management semakin menguatkan PermataBank untuk terus berkembang dan berinovasi untuk memberikan yang terbaik dalam menjawab kebutuhan digital dan komunikasi yang tepat guna saat ini, tidak hanya dari sisi produk dan layanan, namun juga memperhatikan pemenuhan kebutuhan informasi finansial yang menarik, relevan, kreatif serta berkualitas."
PermataBank berhasil memenangkan dua penghargaan Gold Stevie®, yang salah satunya merupakan kategori baru di tahun 2022, yaitu: Most Innovative Instagram Feed: Playing Our Strength: Adaptive Instagram Content & Management dan Award for Innovation in Paid Media Planning & Management: Paid Digital Media Strategy in Digitally Competitive Industry.
PermataBank menurut Glen Ranti akan terus fokus untuk meningkatkan kinerja bank dan melayani nasabah secara konvensional maupun digital. Komitmen PermataBank di ranah perbankan digital terus dikembangkan seiring dengan meningkatnya tuntutan nasabah akan cara yang lebih efisien untuk mengakses berbagai aktivitas perbankan dan transaksi keuangan secara online. "Konsumen Indonesia sangat terbuka terhadap perbankan digital. Oleh karena itu, kami terus akan memperkuat digitalisasi dari setiap level dan sisi produk serta layanan perbankan agar dapat mencakup setiap fitur yang dibutuhkan dan relevan dengan gaya hidup konsumen saat ini" ujar Glenn Ranti.