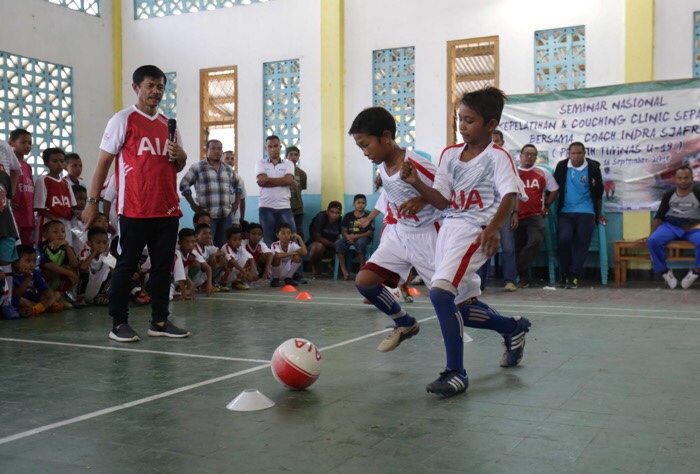 Konsistensi PT AIA Financial membina pemain muda sepak bola Indonesia, diganjar penghargaan dari SPIA Asia Awards sebagai Best Sport CSR Initiative of The Year. Program ini berhasil meraih peringkat pertama dengan predikat Gold.
Penghargaan diraih bersamaan dengan perhelatan SEA 30 November – 11 Desember 2019 di Manila ini, menjadi prestasi tersendiri bagi AIA. Melalui program AIA Sepak Bola untuk Negeri yang diluncurkan pada 2018 bersama dengan AIA Global Ambassador, David Beckham dan Menteri Pemuda dan Olahraga, Imam Nahrawi kala itu, inisiatif sosial AIA dinilai memberi efek besar pada pembinaan bibit muda pesebak bola Indonesia.
"AIA secara aktif mengajak masyarakat untuk hidup lebih sehat, lebih lama dan lebih baik melalui sepak bola dan AIA Sepak Bola untuk Negeri akan terus menjadi pilar utama kami dalam menjalankan program sepak bola demi membantu mengembangkan bakat dan kemampuan bakat – bakat sepak bola Indonesia," jelas Kathryn Monika Parapak, Head of Brand and Communication PT AIA Financial.
Melalui program ini, AIA mendonasikan 10.000 bola untuk anak – anak di berbagai daerah di Indonesia. Jumlah donasi ini berhasil tercatat di Museum Rekor Indonesia sebagai donasi bola terbanyak di Indonesia. Donasi bola tidak hanya didistribusikan di Jakarta tapi juga di berbagai daerah di Indonesia.
Bukan hanya donasi bola, dalam program ini juga diberikan Coaching Clinic di setiap kota yang didatangi dengan menghadirkan International Development Coach Tottenham Hotspur dan bintang legenda sepak bola Indonesia seperti Indra Sjafri, Kurniawan, Firman Utina dan Ponaryo Astaman. AIA Sepak Bola untuk Negeri berhasil melibatkan 2.830 anak dan 100 pelatih dalam proses pengembangan bakat serta kemampuan dalam Coaching Clinic yang digelar di 12 kota.
Editor : Eva Martha Rahayu
www.swa.co.id