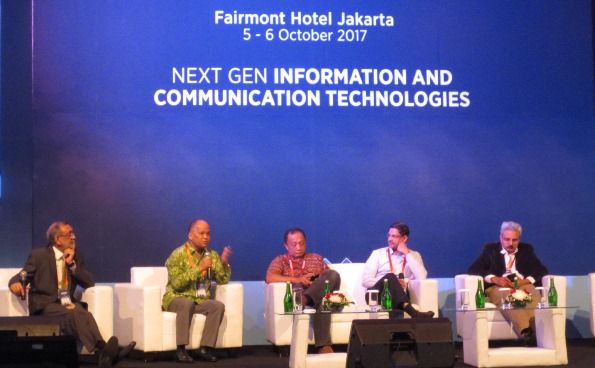 Konferensi Comsnets Indonesia 2017 yang digelar KADIN Indonesia dan M-Solving Group mengusung Next Gen Information and Communication Technologies.
Dr. Ajay Kumar, Ministry of Electronics and Information Technology (MEITY), India tampil sbagai pembicara dengan topik "ICT Outlook". Ajay menyoroti perkembangan ICT dunia diwarnai dengan beragam isu menarik, seperti implementasi internet of thing yang kian dekat kehidupan sehari-hari, tren e-commerce, cyber security, smart city dan tren lainnya yang mengarah ke era digital life.
Pembicara kedua, Dr. Ing. Ilham Akbar Habibie, MBA, Vice-Chairman of Telematics Broadcasting, Research & Technology, KADIN Indonesia, memaparkan topik "Disruptive Innovation in ICT Its Impact in the Economic Development".
Dalam paparannya, Ilham, mengatakan,Indonesia memiliki peluang besar menjadi negara raksasa digital ekonomi di Asia. Beberapa hal yang mendukung ke arah itu adalah pengguna internet yang sudah mencapai 80 juta orang, infrastrukstur telekomunikasi yang sudah mulai membaik dan merata, serta tingkat kesadaran Internet pada orang Indonesia yang mulai meningkat.
Yang perlu dilakukan adalah bagaimana melakukan pemeratan industri digital itu lebih merata, sehingga tidak ada kesenjangan yang jauh antara orang yang sudah melek digital dan orang yang masih tetap berpola konvensional.
"Ini penting dilakukan edukasi yang lebih massif, karena jika kesenjangan pengetahuan digital tidak merata, maka akan semakin tampak kesenjangan sosial di Tanah Air," ungkap Ilham.
Untuk itu pada acara konferensi Comsnet ini, lanjut Ilham, kita belajar dari keberhasilan negara-negara lain, termasuk India yang memiliki budaya digital sedikit lebih maju dibandingkan Indonesia.
Disusul oleh pembicara lain dari Indian Institute of Technology Delhi, India, Prof. B. N. Jain dengan tema, "The Impact of Emerging ICT Technologies and their Applications on Higher Education".
Adapun akademisi dari Indonesia Prof. Dr. Ing. Ir. Kalamullah Ramli, M. Eng dari Universitas Indonesia, memaparkan presentasi tentang "Next Generations Technologies, Services and Applications : Challenges and Opportunities for Indonesia".
Konferensi sesi kedua di hari pertama ini, juga menampilkan pembicara dari Amerika, Dr. Jeffrey Tew, Chief Scientist – TCS Innovation Labs, Cincinnati, AS, yang mengupas tentang "Industrial IOT & Industry 4.0'' serta Prof. Dr. Suhono H. Supangkat, Institute of Technology Bandung yang mengambil tema "'Smart City Maturity Model'".
Sementara dari Singapore hadir Prof. Archan Misra, Singapore Management University, Singapore dengan presentasinya, "Mobile & Urban Sensing and Analytics for Smart City Services".
Konferensi hari pertama ditutup oleh Prof. Archan Misra, Dr. Kiran Deshpande, Prof. Suhono, Dr. Pooja Kadambi dengan topik , "New ICT Infrastructure and Services to Support Smart Cities".
Selanjutnya, untuk konferensi hari kedua, Ir. Airlangga Hartarto, Menteri Perindustrian RI, memberikan keynote speaker yang dilanjutkan oleh para pembicara lainnya.
Untuk diketahui Comsnets didirikan oleh para profesional dan ahli ICT terpilih dari India yang dalam perjalanannya selama satu dekade berkembang menjadi Comsnets Association. Tujuan utama dari asosiasi ini adalah mempertemukan para pakar terkenal di sektor ICT untuk berbagi penelitian terbaru, teknologi dan perkembangannya dengan perwakilan industri, pemerintah, dan akademisi.