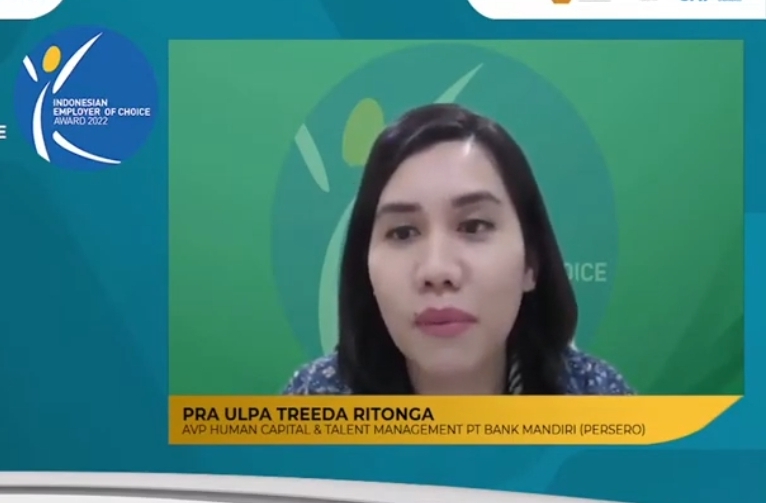 Di era VUCA (Volatility, Uncertainty, Complexity, Ambiguity), talent war, digital talent dan talent millennial menjadi tantangan bagi banyak perusahaan termasuk di industri perbankan. Hal tersebut diungkapakan Pra Ulpa Treeda Ritonga, AVP Human Capital & Talent Management PT Bank Mandiri (Persero) Tbk dalam acara Employer of Choice Conference and Virtual Awarding yang diselenggarakan SWA.
Dalam kesempatan tersebut, Pra mengatakan bahwa saat ini pegawai Bank Mandiri didominasi sekitar 70% kaum milenial. Tentu, menurutnya perlu strategi-strategi baru yang perlu disiapkan agar perusahaan tetap relevan bagi milenial.
Hal pertama yang ditanamkan kepada karyawan yakni core values AKHLAK (Amanah, Kompeten, Harmonis, Loyal, Adaptif dan Kolaboratif). Perusahaan meyakini budaya AKHLAK merupakan kunci untuk mengembangkan Sumber Daya Manusia di Bank Mandiri. " Core values menjadi landasan employer branding yang kemudian bisa untuk mengkomunikasikan kepada target market untuk melihat bagaimana bekerja di Bank Mandiri," ujarnya
Kedua, employer branding sudah dilakukan ke arah digital channel. Pasalnya kini dalam mencari pekerjaan, biasanya milenial mencarinya melalui media social seperti Instagram, Linkend hingga website persusahaan. Ketiga, perusahaan tidak lagi mendatangi kampus-kampus untuk melakukan hiring. "Kami mengarahnya ke virtual campus hiring, bukan lagi yang datng ke kampus-kampus fisik," jelasnya.
Keempat program Mandirian Refer a Talent Program, seorang Mandirian bisa merekomendasikan seseorang untuk bergabung di perusahaan. Perusahaan melihat Mandirian bisa melihat apakah seseorang tersebut memiliki values yang sejalan dengan Bank Mandiri.
Perusahaan juga selalu menganalisis konten-konten yang telah dibuat dan di-share melalui media sosial. "Anak sekarang itu terkenal FOMO, jadi kami lihat dari konten itu seperti apa impressionnya," ungkapnya. Dari sana, pihaknya akan membuat strategi yang relevan dengan tren yang ada saat ini. Untuk menjaga experience karyawan ketika sudah bergabung di Bank Mandiri, milenial ini juga akan memiliki 'bestie' atau tempat mereka bertanya yang disebut mentor, coach, buddy.
Perusahaan berharap langkah dalam melakukan employer branding ini bisa menciptakan talent yang terbaik. Ke depan, pemimpin-pemimpin terbaik Bank Mandiri diharapkan bisa juga berkontribusi untuk Indonesia.
Editor : Eva Martha Rahayu
Swa.co.id