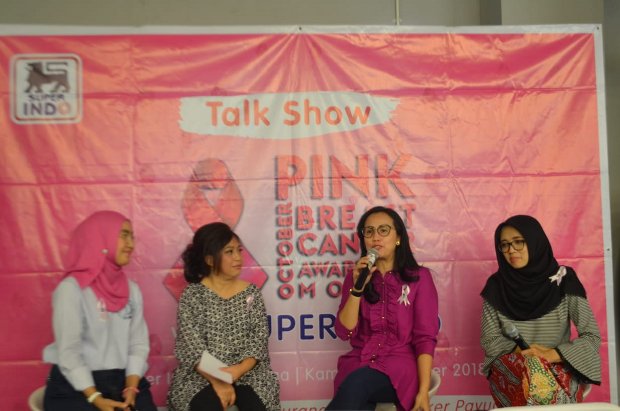 Memperingati bulan Peduli Kanker Payudara (Pink October Awareness Month), Super Indo Supermarket bekerja sama dengan Lovepink mengadakan talkshow dengan topik "Pentingnya Deteksi Dini Kanker Payudara" dan "Mengenali Bahan Pangan Segar Penunjang Pencegahan dan Pemulihan Kanker Payudara". Acara ini diikuti oleh puluhan peserta yang terdiri dari para pelanggan, masyarakat, media dan karyawan Super Indo.
Talkshow yang dimoderatori oleh Angela Hindriati, Corporate Responsibility Head Super Indo ini diisi dengan paparan mengenai program keberlanjutan Super Indo oleh Head of Corporate Affairs and Sustainability Super Indo, Yuvlinda Susanta.
Yuvlinda mengatakan, Super Indo berkomitmen untuk mempromosikan dan mendukung pola makan sehat bagi masyarakat dan karyawan, serta menyelenggarakan pelayanan kesehatan gratis kepada masyarakat sebagai bagian dari tanggung jawab sosial perusahaan.
Sepanjang Oktober 2018, untuk meningkatkan pengetahuan pelanggan, di rak-rak buah dan sayur, Super Indo juga memasang informasi seputar bahan pangan yang dapat membantu melawan sel kanker dan mencegah terjadinya kanker payudara.
"Kami percaya kanker payudara dapat dicegah dengan menjalankan gaya hidup sehat dan mengonsumsi makanan sehat secara seimbang. Untuk itu, kami ingin mengedukasi dan mengajak masyarakat untuk mengenali bahan pangan segar yang dapat membantu mencegah timbulnya kanker payudara. Bahan pangan ini bisa dengan mudah didapatkan di semua gerai Super Indo Supermarket," ujar Yuvlinda.
Untuk melengkapi pemahaman peserta mengenai manfaat bahan pangan segar ini, Super indo menghadirkan pula ahli gizi dari Universitas Esa Unggul, Khairizka C. Palupi, MS, RD. Acara dilanjutkan dengan penjelasan mengenai pentingnya deteksi dini kanker payudara dan penuturan para penyintas kanker payudara oleh para pegiat Lovepink, yaitu Ina Sumantri, Lola Widyani, dan Ruth Firsa Vellasari.
Dalam topik ini, Super Indo secara khusus juga mengajak peserta untuk menyadari pentingnya deteksi kanker payudara secara dini. "Harapannya, acara ini dapat memberikan wawasan secara utuh kepada masyarakat, bahwa di samping gaya hidup sehat, deteksi dini kanker payudara itu penting. Dengan mendeteksi sejak awal penyakit ini, maka peluang untuk bertahan hidup akan lebih besar. Oleh karena itu, kaum perempuan dituntut untuk lebih peduli pada tubuhnya sendiri. Salah satunya dengan pemeriksaan SADARI," tambah Yuvlinda. Selain talkshow, Super Indo menyediakan breast cancer USG screening gratis untuk peserta terpilih.
www.swa.co.id