Acara yang ditunggu-tunggu para gamer di Indonesia akhirnya datang juga. Perhelatan The Mobile Legends Southeast Asia Cup Final 2017 Indonesia digelar di Gandaria City Mall, Jakarta, mulai tanggal 22-23 Juli 2017. Asiknya, penggemar Mobile Legends diundang untuk menyaksikan 8 regu teratas di Indonesia yang bersaing memperebutkan gelar nasional serta mewakili Indonesia di Piala Asia Tenggara bulan Agustus melawan juara nasional dari sejumlah negara, seperti Thailand, Filipina, Malaysia, dan Singapura.
"Acara ini akan disiarkan secara eksklusif di Bigo Live dan aksinya dimulai pukul 11:00 WIB," ujar President Coda Payments, Paul Leishman.
Menurut Paul, dari 128 regu peserta, melalui seleksi akhirnya tersisa 8 finalis yaitu Saints Indos, Lord, S1cide Sykes, E8 Elite Esport, Rto, Oxygen2, Unforgiven, dan Zapbros GenX. Selain piala dan kesempatan untuk mewakili negara mereka, para finalis ini juga akan bersaing memperebutkan sejumlah besar hadiah, termasuk uang tunai lebih dari US$ 5.000, ponsel Oppo F3 untuk masing-masing peserta dari 3 tim teratas.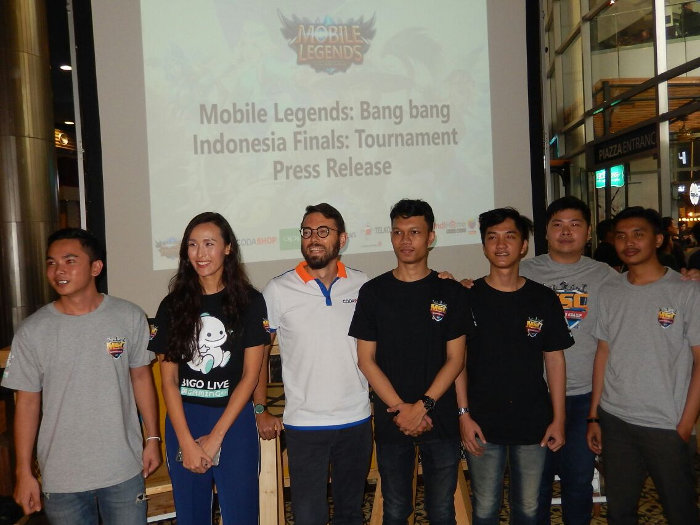 Hadiah menarik lainnya, adalah Diamonds untuk setiap peserta dari semua regu finalis (50.000 untuk setiap peserta tim peringkat pertama, 30.000 untuk setiap peserta tim peringkat kedua, 15.000 untuk setiap peserta tim peringkat ketiga dan keempat, dan 10.000 untuk setiap peserta tim perangkat kelima, keenam, ketujuh, dan kedelapan).
"Semua gamer Mobile Legends diundang hadir untuk menyaksikan pertandingan tersebut dan siapa tau bias mendapatkan kode item Mobile Legends. Karena 1.000 tamu pertama setiap harinya akan mendapatkan kode voucher Mobile Legends gratis seharga 200 tickets + double BP Card (3 hari) + double EXP Card (4 hari) + Premium Skin Fragment* 20 + Layla Gun dan Rose Skin Trial Card (7 hari)," jelas Paul.
Jadi, para gamer diharapkan hadir lebih awal untuk mendapatkan hadiah-hadiah tersebut. Mereka juga dapat menyaksikan kompetisi Cosplay. Pada hari Minggu 23 Juli pun diadakan kompetisi Cosplay dengan hadiah uang tunai sebesar Rp5 juta. Kontes ini akan dimeriahkan oleh para juri ternama seperti Donna Visca dan Matcha Mei. Masih ada juga kemungkinan memenangkan hadiah besar dari event lucky draws.
Kunjungi stan Bigo Live untuk mendapatkan beberapa hadiah besar, termasuk casing handphone, kipas portabel, dan banyak hadiah lainnya. Terakhir, para pencinta Mobile Legends dapat menikmati meet and greet dengan host Bigo Live favorit Anda seperti Kresna Aurora, Naufal Danielwan Rajab, Antria Endara, Aviwkila dan Rizkika Rochendi.