Di sudut ruangan kecil, tampak seorang pemuda sedang serius di depan laptopnya. Baginya, di manapun ia berada jaringan internet adalah hal yang paling pokok dibutuhkan. Pemuda itu bernama Djaka yang sudah menjadikan internet sebagai bagian nafas hidupnya. "Di manapun dan kapan pun saya berada harus selalu terhubung dengan internet karena bisnis yang saya jalankan berbasis online," ungkap Djaka, Head Of Business Developmnet www.kliktoday.com.
Hampir lima tahun klik today ia gawangi bersama rekannya, tepatnya 2010 lalu. Mimpi besarnya adalah membangun kerajaan bisnis. Di era online memang bukan hal mustahil bisa meraih sukses secepat kilat. Semuanya serba mungkin. "Kami tidak memiliki modal banyak. Yang kami punya adalah semangat meraih mimpi. Akhirnya kami temukan solusinya untuk memulai bisnis online," ucap Djaka penuh semangat.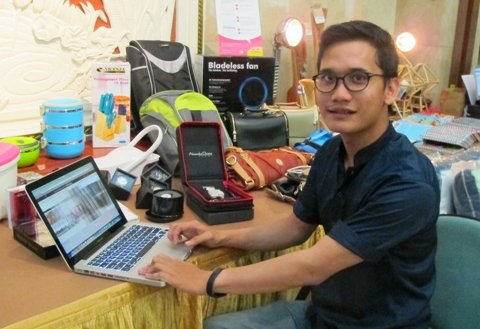 Djaka, Head Of Business Developmnet www.kliktoday.com.
Untuk memudahkan pengunjung, Klik today membagi produknya ke dalam lima kategori: Home, Women, Man, Fun, Kids and Toys. Kategori Home untuk aneka produk yang berhubungan dengan furniture, home aksesoris, lighthing dll. Sedangkan kategori Women, yang berhubungan dengan kebutuhan dan aksesoris wanita, mulai clothing, cosmetic, tas dan aksesoris. Sebaliknya kategori Man, untuk mengakomodir pembeli online dari kalangan pria.
Adapun kategori Fun, dijual beragam produk elektronik, seperti handphone, laptop, kamera dll. Pada kategori Kids dan Toys disediakan produk untuk perlengkapan bayi dan beragam main anak-anak.
Realtime Transaction
Mimpi Djaka dkk kini sudah mulai terwujud dengan ramainya transaksi di toko online mereka. Setidaknya ada 500-1000 transaksi dalam sebulan. Untuk nilai satu transaki berkisar dari Rp 200 ribu hingga Rp 1 juta. Banyaknya transaksi tersebut membuat mereka harus memutar otak bagaimana melakukan rekonsiliasi data transaksi yang lebih praktis dan realtime.