Rakuten Inc., salah satu perusahaan layanan internet global mengumumkan pembukaan Rakuten India Development and Operations Center (RIDOC) dan berkolaborasi dengan PROLIM Global Corporation. RIDOC yang baru dibuka ini memiliki peranan penting bagi pengembangan global Rakuten ke depannya. RIDOC yang akan berlokasi di World Trade Center, Bangalore, India ini juga akan melengkapi pengetahuan dasar dan retensi staf Rakuten.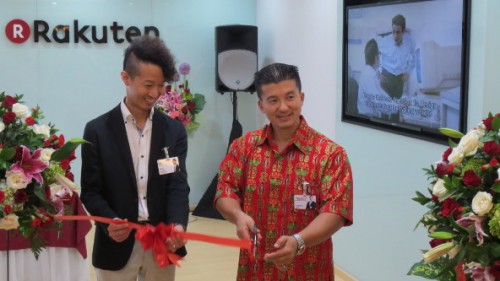 Peresmian kantor baru Rakuten Belanja Online di Indonesia pada September 2013
Perusahaan layanan internet yang berbasis di Jepang ini memandang talenta dan keahlian dari staf tetap dan mitra adalah sumber daya yang tidak ternilai. Rakuten juga memandnag lebih menantang untuk mempertahankan pengetahuan dan keahlian dengan staf mitra yang sering jkali hanya dilibatkan project by project.
Di sini RIDOC akan memainkan peran penting dalam mengatasi masalah yang mungkin terjadi dengan melengkapi operasional pengembangan di India dengan kerangka kerja Build Operate Transfer, yang akan membantu mempertahankan staf, meningkatkan pengetahuan dasar, dan memberikan staf mitra lebih banyak kesempatan untuk mendukung perusahaan dan proyek Rakuten Group di seluruh dunia.
Pembukaan RIDOC yang diumumkan di Tokyo, 25 Juni 2014 juga diikuti dengan pendirian pusat pengembangan Rakuten di Beijing, Tiongkok; San Fransisco, Amerika Serikat, dan Singapura.
"Dengan mengembangkan sumber daya di RIDOC yang akan digunakan diseluruh Rakuten Group, kami akan memiliki kesempatan untuk mengembangkan praktik-parktik terbaik, menstandarisasi proses dan prosedur, meningkatkan efisiensi operasional kami di dunia dan mengembangkan tim global sesungguhnya," terang Hiroaki Yasutake, Managing Executive Officer dan Director of Development Rakuten, Inc.
Saat ini pusat pengembangan terbaru Rakuten akan difokuskan pada proses-proses operasional infrastruktur dan sumber daya, namun pengembangan bakat dalam otomatisasi infrastruktur, pengembangan software dan jaminan kualitas telah dimulai. Ke depannya RIDOC akan berkembang ke area-area yang merupakan tambahan dalam bisnsi global Rakuten sehingga nantinya juga dapat mendukung pertumbuhan strategis Rakuten. (EVA)