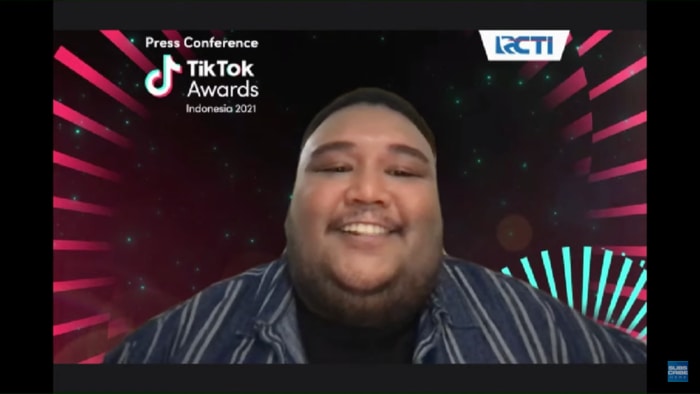 Platform video singkat, Tiktok, akan kembali menggelar acara penganugrahan bagi konten kreator di Tanah Air sebagai apresiasi atas kreativitas yang dibuat sepanjang tahun 2021. Mengangkat tema TikTok Awards Indonesia 2021, platform akan berkolaborasi dengan RCTI dan rencananya akan digelar pada 25 Februari 2022 mendatang.
"Sepanjang tahun 2021, kami menyaksikan langsung bagaimana para kreator terus menghadirkan keseruan melalui ragam konten orisinal yang dapat menginspirasi sekaligus menghibur masyarakat secara positif," kata Fandhy Thesia, Marketing Operations Manager TikTok Indonesia dalam Konferensi Pers virutal yang diadakan tadi siang (15/02/2022). Lebih jauh, dia menambahakan, untuk meramaikan acara puncak, platform terlebih dahulu meluncurkan berbagai tren, hastag, dan challenge di platform Tiktok.
Ada 15 kategori yang akan diluncurkan, terdiri dari enam kategori People's Choice dan 9 kategori Judge's Pick. Dalam kategori People's Choice, penggemar dan komunitas TikTok dapat memberikan dukungan melalui sistem voting pada aplikasi . Keenam kategori itu adalah Rising Star of The Year, Celebrity of The Year, Musician of The Year, Viral Song of The Year, Popular Creator of The Year, serta Popular Streamer of the Year.
Sedangkan, sembilan kategori lain akan dipilih berdasarkan penilaian dewan juri. Kategori yang ditampilkan meliputi Best of Comedy, Best of Performers, Best of Fashion & Beauty, Best of Lifestyle, Best of Gaming, Best of Sports, Fitness & Wellness, Best of Learning & Education, dan Best of Foodie. "Kami harap hal ini bisa memicu kreativitas serta mendorong semangat komunitas kami di Indonesia untuk terus berkarya untuk menularkan semangat positif secara seru di TikTok," kata Fandhy.
Sementara itu, Dini Putri, Programming & Acquisition Director RCTI memaparkan saat ini Tiktok telah menjadi platform pilihan masyarakat untuk mendapatkan hiburan. "Untuk itu, kami bangga dapat berkolaborasi bersama TikTok melalui acara penghargaan bagi para kreator berbakat di Indonesia," ujar Dini.
Editor : Eva Martha Rahayu
Swa.co.id